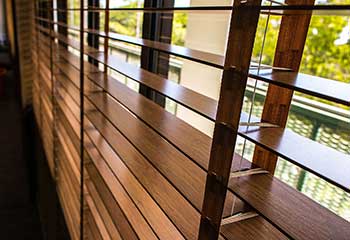 Wood Blinds
Customer Issue: Old blinds needed to be replaced with new units in the same style to preserve the look and feel of the ancient house.
Our Solution: Our team recommended blinds with the natural quality and timeless sophistication of hardwood. The customer selected 2 ½" slats dark cherry, with a cordless lift. To decrease the amount of light entering, he chose the routeless option, whereby there are no visible holes for the cord to pass though, and a traditional wooden cornice.
Louis Warner
- Laguna Beach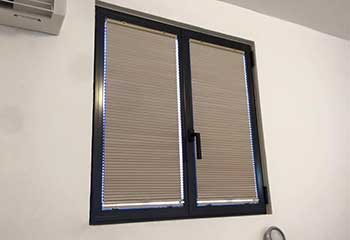 Venetian Blinds
Customer Issue: A tragic grape juice related incident ruined Ms. Linn's white roller shades. She wanted something more durable to replace them.
Our Solution: The new Venetian-style blinds the customer chose needed a different housing than the old roller shades had used, so we set up a new mount for them. The customer was happy to see her new window treatment provides more privacy than its predecessor.
Marina Linn
- Laguna Niguel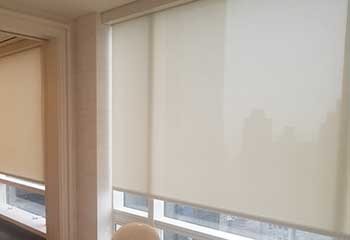 Solar Shades
Customer Issue: The customer wanted a UV-screening shade installed behind her east-facing therapy room window.
Our Solution: Our consultation visit gave us the dimensions of the large window, which let us fit a tinted UV reflective solar canvas sheet for the job, in the silvery black that Ms. Soderberg picked out. A simple roller mount and a drawcord provided control.
Monica Soderberg
- Ladera Ranch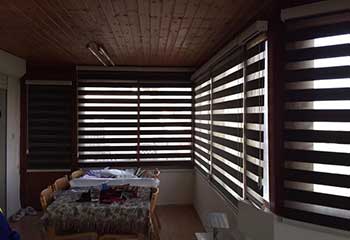 Motorized Roller Shades
Customer Issue: The customer wanted a holistic, cost-saving window treatment for his living room and bedrooms, in order to completely automate sunlight control.
Our Solution: The customer's choice was a pair of black polyester roller shades for the living room windows and one more for the back bedroom. Our team installed all three with smart motors that can respond to remote control or automatically adjust and optimize the shade position throughout the day in accordance with their light sensor.
Omar Grant
- Laguna Niguel