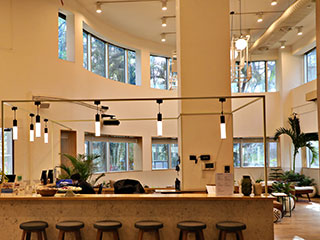 The main advantage of motorized window treatments is the incredible ease of use they offer. With automatic window coverings, it's possible to connect to smart home systems, network hubs, and even use tablets or smartphones as the main remote control device. With such innovators like Somfy and Lutron helming the advanced remote control technology for motorized blinds and shades, the future looks bright. And if it's too bright, you can also draw the blinds, of course! As the leading Laguna Niguel motorized blinds installation and manufacturing team, we offer customers from all nearby areas optimal solutions for shading homes, workplaces, and outdoor lounge areas.
Why Go With Motorized Blinds on Windows
There are quite a few benefits of opting for remote control blinds or window shades as the functional shading solution for home or business spaces. With motorized blinds, you have very simple and quick control remotely. Meaning you can stand very far away, or not even be in the room to close or open the motorized window treatments and let some light shine in or darken the room. Motorized blackout blinds for bedrooms are a good example of ultimate convenience. You can have them set to open and close at specific times, or just reach for the remote instead of having to get out of bed.
Smart Blinds – Local Laguna Niguel Source
Capitalizing on the advancement of remote control motorized blinds technology has allowed for significant improvements compared to a decade ago. Nowadays, you can connect smart motorized blinds to different networks, and opt for remote control with handsets or even voice command inputs. Somfy blinds and Lutron motorized shades offer all sorts of effective control nodes for such purposes. And with quality custom made window treatments motorized to connect to controls remotely, your Laguna Niguel property, whether residential or commercial, can save a lot of money.
How Motorized Blinds Save Money
With window covering automation, it's much easier to control indoor temperature and brightness levels. This results in better energy efficiency, which in turn reduces spending on energy as well as on repairs of AC from overworking. While motorized blinds do require energy to work, you have battery-powered sources or even solar-powered blinds as options as well as the classic wired motorized window treatments. With advice and in-depth consultation (free) from our expert Laguna Niguel motorized blinds and shades professionals, you can easily find the best choice for your business or residence. So call anytime to arrange a free estimate on the best smart remote control blinds or shades for your needs.