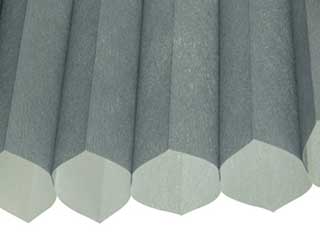 As is the case with many types of window treatments, cellular shades have advantages but also some disadvantages. You need to be aware of all of the factors if you're considering to get them for your home or commercial establishment.
What Are Cellular Shades?
Cellular shades are made of spun lace and bonded polyester that often feels like fabric or paper, and can filter light and insulate the room. They come in many colors and are usually installed at the top of the window. Some have no cords. Their special design of honeycomb-like cells traps air and creates a barrier between the window and the room, allowing them to boost energy efficiency. These shades can be constructed from one, two or three cells, where the R-value increases in direct correlation to the number of cells.
The Main Advantages Of Cellular Shades
The most important feature is the insulation ability of the cells, which enables them to keep the room cool in the summer and warm in the winter, thus making the house more energy efficient. The special cellular build also serves as a noise barrier, helping in blocking outside noise from entering the house. The unique cellular composition and the multiple layers of the material, especially when the shade is made of double or triple cells, and in a darker color, blocks the light and adds privacy.
The Main Disadvantages Of Cellular Shades
The major drawback is the difficulty in cleaning this type of shade. As the material is delicate and tends to collect a lot of dust and fingerprints, special care is necessary to reach every cell and remove the dirt. Often, a professional cleaning service is preferable, to avoid accidental damage. Another potential problem is the perceived notion that all cellular shades can provide full blackout quality. Although they have a light filtering ability, single cell shades in a light color will only filter the light but probably won't render the room completely dark.
Are They Right For Me?
Cellular shades make for a great solution when you want new window coverings that will look good and offer you some extra benefits apart from décor contribution. Before you make a decision make sure you give Laguna Niguel Blinds & Shades a call and sit down with our representative to discuss this and other options at your house or office, free of charge.