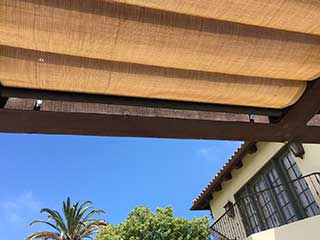 If you're looking for a quick and easy way to improve your home, then our custom patio shades are an excellent option. We offer every type of covering you could need, including motorized retractable shades that provide total convenience. Get more use out of your patio or gazebo with custom overhead shades, and provide protection from unexpected showers with waterproof outdoor shades. We also provide a personal touch. Our team is in the Laguna Niguel area, so we offer free in-person consultations near you. Simply get in touch to find out what we can do to improve your property.
Custom Range Of Overhead Patio Shades
If you can't get shade when you need it, it's hard to get the most out of your outdoor spaces. No matter how warm and sunny it might be, too much sun will easily lead to sunburn and overheating. Don't leave your family and guests unprotected. Choose from our range of cost-effective overhead shades. Our wide selection of different options lets you easily find something that suits your property. Simply contact our team in Laguna Niguel today to find out more.
Outdoor Sun Shades In Laguna Niguel
Whether you live here or somewhere nearby, we've got beautiful sun shades for outdoors to offer you. You can choose the color, the material, and the level of opacity to ensure they fit your property perfectly. Whether you need covers for a patio, gazebo, or some other type of enclosure, our outdoor shading products take the cake. We custom make our sun shades to suit every customer's budget and needs. With these custom patio shades, you can eat lunch outside even at high noon, in a comfortable and shaded area. And don't forget about the various features you can also get for your custom outdoor coverings, like motorization and waterproofing.
Affordable Motorized Patio Shades
Take the hassle out of adjusting your patio shades by choosing our low-cost motorized systems. We provide options for gazebos and patios of any size, so you can be sure your new motorized shades will be a perfect fit no matter what. Operate your new remote control shades with nothing more than a button press. This means you can quickly provide shade and shelter for your patio area without the effort of manually adjusting each shade by itself. Why not get a free quote today?
Our Exterior Roller Shades
These coverings are a classic design and are well-suited to many different properties. One of the most attractive features of our custom exterior roller shades is the high level of customization we provide. You can select materials that complement the design of your home, as well as providing excellent protection from sunlight, bugs, and dirt. They're easy to operate, too, so you won't have to struggle to get them into the perfect position. Speak to our Laguna Niguel team today for your free exterior roller shades estimate.
Laguna Niguel Patio Shades Installers
Our representatives take pride in offering Laguna Niguel residents a real personal approach. Our team offers free consultations at your property, with no fee or obligation to make a purchase. Simply get in touch with our patio shades experts in your area today to find out how your home could benefit from custom outdoor shades.