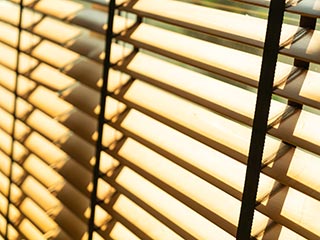 To enjoy the latest wireless remote control technology for window treatments, while still flaunting the traditional aesthetics, motorized Venetian blinds can fit the bill perfectly. Known for their classic vane structure that we're all used to seeing in different settings, Venetian blinds with motors have become a great combination of the old with the new, delivering the best of both worlds at a great price.
Why Get Venetian Window Blinds Installed
The popularity of Venetian-style window treatments is uncontested, as they've been around for centuries now and aren't likely to disappear anytime soon. Venetian blinds use vanes to provide a varied range of sunlight level control, letting you adjust the position of the vanes to let more sunlight in or keep more of it blocked. This classic aesthetic is simple and neutral, but there are additional benefits and features Venetian window blinds have to offer your Laguna Niguel residence or business place.
Venetian Blinds Blackout Laguna Niguel Bedrooms
When built with vanes that slightly overlap each other, Venetian blinds create a room darkening quality that serves sleeping arrangements very well. Perfect for bedroom windows for this very reason, blackout Venetian blinds let you get the best sleep possible without it being interrupted by sunlight early in the morning or streetlights late at night. Seeing as how sleep is an absolutely vital daily action, getting blackout Venetian bedroom window blinds is hugely beneficial for your mood and your overall health too.
Learn About Motorized Venetian Blinds With a Free Estimate
To deliver the best quality and complete satisfaction, we provide free estimates before every order. Find out what sorts of features and other aspects of our custom made motorized Venetian blinds could suit your Laguna Niguel area property by arranging a no-cost consultation from one of our local experts.