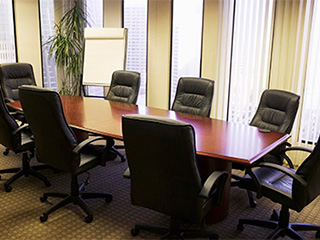 One of the most popular window coverings around is vertical blinds. There are plenty of reasons why people choose these window coverings for their homes and businesses. Vertical blinds are an excellent way to quickly cover or uncover a large window, such as those found in living rooms and meeting rooms. They're also incredibly versatile, and our range of custom designs allow you to create everything from smart, formal coverings to cozy ones. Check out the wide selection of custom vertical blinds we provide below.
Great For Your Office Windows
Many business owners find vertical blinds to be the perfect way to cover office windows. This is something that's often overlooked but is very important. Do you want your employees to spend meetings squinting in glaring sunlight, or do you want them to be comfortable and focused? Choose vertical blinds that let workers concentrate on their jobs, providing just the right levels of natural light. Because vertical blinds are very easy to adjust, it's straightforward to let in just the right amount of sunlight. Thanks to our many different designs, you can also choose from attractive styles that suit any office. Make your Laguna Niguel business a comfortable, productive environment by investing in quality vertical blinds.
Vertical Blinds For Sliding Screen Doors
Large glass sliding doors are often a challenge to adequately cover. You may find it hard to ensure that unwanted sunlight is kept out, while also maintaining proper privacy within your house. With our range of high-quality custom vertical blinds, though, you can easily prevent these problems. Our vertical blinds provide you with a wide range of options to choose from. Select materials that complement your interior design choices, as well as sheer and blackout coverings. Our vertical blinds can even be created with materials like wood or vinyl, as well as fabric. Get in touch with our Laguna Niguel team today, and see what our range looks like in person.
Perfect For Your Patio Door
One of the most popular applications of vertical blinds is covering sliding glass doors. Retractable screen doors need vertical blinds to cover adequately since their height is larger than the average window. This makes vertical coverings more useful for such glass doors. They also work really well with tall window walls, which explains why you often find vertical blinds in various office boardrooms. You can get these vertical window treatments made from faux wood for a low maintenance and beautiful décor enhancing shading solution.
Quality Vertical Blinds
We pride ourselves on being the Laguna Niguel-based specialists when it comes to vertical blinds. Our products are all manufactured to the very highest standards, ensuring that your home or business gets the quality it deserves. Don't just take our word for it, though. We're always happy to provide you with a closer look at the wide range of custom vertical blinds we supply. Get in touch with our team today, and we'll schedule a free in-person consultation at your Laguna Niguel address. This gives you the chance to see just how good our blinds could look in your property. Don't wait any longer - get in touch with our team today.