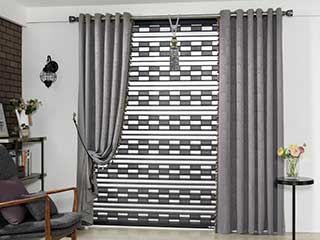 Popular window coverings amongst many homeowners are curtains and drapes. Soft furnishings like these provide a wide range of benefits, many of which can only be supplied by these treatments. For instance, few other coverings offer such excellent light control and privacy when necessary. Heavy fabrics can also be used which can prevent heat loss through windows, and also cut down on noise from outside. It's no surprise that many homes feature curtains or drapes in at least one of their rooms since they're such a practical and aesthetically pleasing choice.
Perfect Blackout Curtains For Bedrooms
In different parts of your home or business, you'll want something to cover the windows completely. That means not letting any sunlight in. Blackout curtains work great for those environments. They make for great bedroom curtains, due to the blackout fabric providing extra privacy and great sunlight blocking. This allows you to sleep in, even during noontime. Bedroom curtains made from blackout fabrics are great for adult and child bedrooms as well as for private offices where you need moments of privacy.
Custom Drapes Near Your Area
Your new custom drapes can be made to your exact specifications. Whatever color or pattern best suits your room, you'll be able to have new drapes made to your requirements. This custom service also enables you to create drapes in any size you need, so if you have particularly wide or tall windows you'll have drapes that fit them perfectly.
Motorized Curtains For High Tech Office Spaces
Any home can benefit from installing motorized window coverings, and this includes curtains too. Thanks to modern wireless technology and smartphone integration, you'll be able to control your new window treatments wherever you are in the property. This makes it easy to sweep the curtains wide without leaving the bed. You can also benefit from the security that motorized curtains bring. If you're away on vacation, these curtains can be set to alter position as if you were at home. This creates the illusion of an occupied home, telling would-be burglars to stay away. Adding sensors to your motorized curtains and drapes gives you the ability to completely automate them. Have your draperies open or close whenever you want, without you having to do anything.
Differences Between Curtains And Drapes
Although many people use the terms interchangeably, these two products are not quite the same. Both are made from soft material, and may even look similar. However, curtains are made from much lighter material. They're great for cutting out glare and providing decoration. Drapes are often lined and are a much heavier material. They can cut out light completely and are often found in bedrooms and living rooms.
Motorized Drapes and Blackout Curtains Nearby
It isn't difficult to find the perfect new soft furnishings when you work with Laguna Niguel Blinds & Shades. With a wide range of custom curtains and draperies on offer, you'll be sure of finding the perfect new treatments for your windows. Whether you reside near Laguna Niguel or somewhere a little farther away, get a free quote from a curtains and drapes specialist. No-obligation consultation appointments are available throughout the local area. Schedule an appointment today.