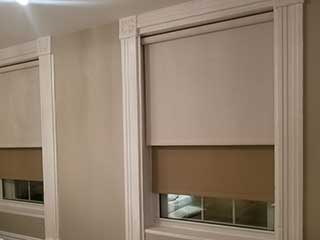 Cut down on unwanted glare, keep your property cooler and improve privacy with our custom blackout blinds. Laguna Niguel Blinds & Shades is your local provider of made-to-measure room darkening window coverings that provide a huge range of benefits. You can choose every element of the design, including not only the color and the material but even the type of operation used to open and close them. We even offer amazing modern technology such as motorized blackout blinds you can control from your smartphone. We offer those and all our other blackout window treatments to homes and businesses all across the Laguna Niguel area. We recommend starting with a free in-person consultation at your address. Our expert representatives will provide examples and answer any questions you have about blinds, shades, and other door and window coverings.
The Best Source For Blackout Blinds Near Laguna Niguel
We have many years of experience providing custom window coverings for homes of all shapes and sizes. We offer everything from large blackout blinds for French doors to treatments for small windows. This even includes blackout blinds for skylights, making it simple to get total coverage in any room at your property. Thanks to our totally-custom design process, we make it easy to install coverings on windows anywhere in the building. Mix and match colors or materials to achieve exactly the right look for your home or business, and benefit from our market-beating deals on blackout blinds. To get started today, just call Laguna Niguel Blinds & Shades to book a free estimate.
Improved Productivity With Blackout Office Blinds
Workplaces need to be comfortable spaces to spend time if you want to maximize productivity. Blackout blinds for office windows make it easier to provide a productive working environment for your employees. Our top-quality window coverings cut out bright sunlight, reducing the strain on eyes and preventing headaches. This also makes it easier to keep your office cool during the summer, because much less sunlight is allowed in. That means lower A/C bills, and because our prices for blackout blind installation are low too you'll always save money. A comfortable environment is ideal for any office workplace, and also helps to keep customers happy. Get a free estimate today from our Laguna Niguel-based representatives, and find out how cheap our blackout blinds can be.
Extra Comfort With Room Darkening Window Treatments
Blackout blinds bring much-needed privacy and comfort wherever they're installed, and there are several locations where they're particularly popular. For example, many homeowners choose blackout blinds for bedroom windows, since they're perfect for cutting out unwanted light. That's ideal if your bedroom looks out onto a brightly-lit road. It's also a smart move if your neighbors could otherwise see into your windows since blackout materials are opaque even when they're backlit from within.
Laguna Niguel Blackout Blind Makers and Installers
When we install blackout window treatments at a nearby property, we often find that the owners are stunned at the difference it makes. In many cases, they wonder how they managed without blackout window blinds in the first place. Interested to see what sorts of materials, designs, and special features we have to offer? You should schedule a free consultation then. We'll send our blackout blinds experts over to show you exactly how impressive our shading products can prove. Call anytime to schedule a free at-home consultation on blinds, shades, and any other window treatments you want.