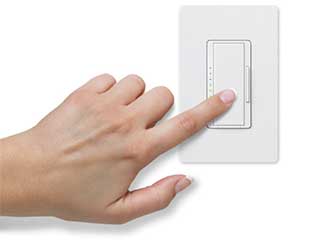 Basic window shades protect your privacy, keep the sun off your furniture and carpeting, and make the room look nicer. You can get much more out of them than that, though! Motorized shades are more convenient, more reliable, and safer for parents and pet owners than the muscle-powered kind. With the addition of smart control systems, they also become proactive, helpful parts of your homeowner toolkit! Lutron shades are custom made for every customer in the Laguna Niguel area. With your choice of decoration elements, styles, and computerized features, Lutron shading solutions are both the most affordable and the most flexible option. Windows, glass doors, and skylights are all within our purview for custom shading solutions.
Styles To Choose From For Motorized Shades
Modern Lutron operators and computer control systems are compact and elegant, and the shades attached to them open silently. This means that you don't make any aesthetic concessions when choosing the high-tech option. Lutron's motorized products include about every style of classic window shades. From simple roller shades to intricate sheer shades with internal blinds slats, anything you can move by string can also work by a battery-powered operator! For more richly decorated and relaxing spaces, you might be interested in Roman shades with intricate, scalloped pleats. Layered or banded shades offer the same versatility as sheer shades, but take up less space and have a more hypnotic aesthetic to them. Blackout shades ensure complete light protection and privacy for your Laguna Niguel bedroom. Those are just a few of the options; call and ask us about more!
Lutron Smart Shades Improve Your Life!
Motorized shades are time and effort savers to begin with, as well as being child safe without any dangling cords. Going further and putting your shades under computer control lets them actually save you money! Homeowners waste thousands of dollars on furniture repair, wallpaper replacement, and excessive AC use thanks to windows being left open. With smart controls, you never have to worry about that! Google Home, Bluetooth, and Alexa compatibility are all available, along with smartphone app control.
Free Estimates on Laguna Niguel's Best Lutron Motorized Shades
Add lovely décor to any building, apartment, office, or other with custom made window coverings. Remote control Lutron shades offer you smart shading solutions perfect for every need. Call to arrange a free session with our Laguna Niguel motorized shade experts today. Let us help you decide what kind of Lutron shades you want and give you a free quote on made-to-measure solutions.