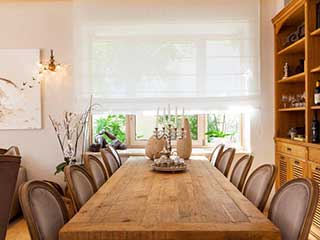 Your home, office or shop will greatly benefit from the roman shades customaddition of pull down shades like the ones that were used back in Ancient Rome. At the height of its power, the Roman Empire was the most affluent and certainly the most elegant out of all other civilizations of its time. Now, several hundred years later, one of their home decors legacies still remain – the pleated fabric roman shades.
Window Coverings With a Legacy
Looking at a set of fabric roman shades hanging down living room windows would immediately evoke a sense of appreciation for the design. Design-wise, roman shades appear very sleek. When they're hanging completely down, the drape flattens out, revealing a simple shade that functionally covers the window. This type of shade does a great job blocking out the sunlight or to otherwise diffuse it. There are models that show the seams, indicating where the drape folds at the pleats. It is only when they're partially or completely pulled up that their uniqueness can be fully appreciated. The main attraction of Roman shades is how they neatly fold up into evenly sized pleats. This feature is immediately evident when they open or close.
Beautiful Interior Fashions
One of the main reasons people go with Roman shades is their look. Sure, these shades make for excellent privacy enhancements and added UV protection. But their look is one of their biggest appeals. It's undeniable how these coverings simply have a way of complementing their surrounding decor. They do more than that, in fact. They contribute a little something to make it stand out. With the pleated structure Roman shades often boast, your windows will seem fully furnished and decorated, lending the room an elegant look that's hard to beat.
Are Roman Shades Right For Me?
If you're considering adding this ancient masterpiece to your home or office windows, then let us at Laguna Niguel Blinds & Shades help. Have one of our experts sit down with you for a free consultation, during which you'll get a chance to choose from a wide selection of custom made products. It's important that your new shades will be custom made, to ensure they can filter and block the sunlight completely. Contact us today to book an appointment.