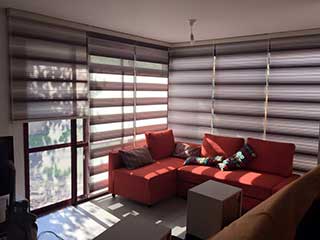 Alternating bands of fabric types have a number of benefits, in addition to the naturalistic zebra-striped color scheme they come with. Layered shades are the most modern development in window treatment design, and ours come with all the features and amenities.
Solar Shading Layers
Layered shades are wonderful in their ability to admit enough visible light to see and read clearly while deflecting up to 90% of the harmful ultraviolet light that ruins furniture and causes sunburn. They usually let in a decent supply of air, as well, provided the window pane is open. Some of their drawbacks include the somewhat homogenous and plain appearance of the shade itself, and the ease of seeing through it. Two thin sheets of this striped surface are built into the system back to back, and can be scrolled up and down to align the layers however you wish.
The Benefits Of Varied Opacity
In addition to making the layered shades more visually appealing and less easy for passersby to peek in through, adding some opaque stripes actually increases their effectiveness at controlling sunlight levels. While plain solar shades are excellent at blocking UV, they don't always completely remove the painful glare when the sun is shining directly at them; breaking it up with some darker bands can work wonders.
Efficient And Customizable
Like the basic solar shade, this layered style is thin, lightweight, and strong, which means it can be made to fit into a range of different systems. Horizontally and vertically opening screens are both available, as are hand-drawn and motorized options that allow Laguna Niguel Blinds & Shades to tailor the product to your specific needs and price range. Just ask us about the options!
Call Us Today
Layered shades are just one of the many types of window treatment our team can design and install for local home and business owners. Contact Laguna Niguel Blinds & Shades and let us know how to serve you.