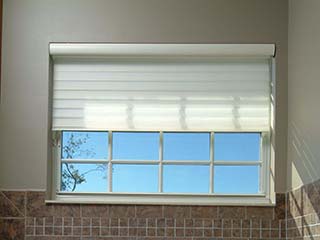 From simple shades to rolling shutters, Somfy offers a variety of shading solutions perfect for all sorts of needs. With remote control window treatments, you can enhance not only utility but the interior décor as well, with made-to-size coverings in all sorts of custom designs you pick. Somfy blinds give users state-of-the-art control features and optimization capabilities for maximizing energy efficiency while utilizing natural sunlight indoors. With Somfy, motorized blinds work for you to create the most comfortable ambiance for work or home life.
Smart Motorized Blinds With Wi-Fi
The innovation of remote control blinds by Somfy is highly requested for commercial properties as well as residences all over Laguna Niguel. Smart Somfy blinds offer you far more than the usual control features, ranging from Wi-Fi connectivity for smartphones to automatic brightness sensors that engage the motorized blinds to work on their own. Then you also have the smart blinds voice control solutions. Incorporate Somfy blinds into your smart home system and simply tell the window treatments what to do.
Motorized Roller Shades – Sheer & Blackout
To perfectly control and diffuse sunlight, Somfy blinds utilize the necessary materials to best block or filter natural light. Sheer roller shades motorized with Somfy features can soften any harsh sunlight to let you create pleasant ambiances in kitchens, office spaces, living rooms, and more. Diffused sunlight and reduced glare make motorized sheer roller shades excellent for the workplace or for your home. With blackout Somfy blinds and shades, you can block sunlight completely, ensuring total darkness should you choose. Blackout blinds work really well as treatments for Laguna Niguel bedroom windows, obscuring visibility and thus creating privacy and ideal sleeping conditions.
Somfy Shading Outdoors
Whether you want to add pergola screens or motorized canopy options to outdoor lounge areas, Somfy solutions have the, well, solutions. Motorized patio covers have become incredibly popular in the Laguna Niguel area, letting you enjoy time outside in all weather. Motorized pergola canopies, awnings, and various deck shades with remote controls can make time spent outside far more pleasant. Waterproof motorized patio covers for pool areas or gardens can all utilize Somfy controls for maximum effect. Let the smart shading solutions optimize your enjoyment of the outdoors with custom-made motorized coverings in your favorite designs.
Free Quotes on Somfy Blinds – Laguna Niguel Motorized Shading
Discuss the different options and details with professional motorized blinds installers near you to see all the choices available to you. Our Laguna Niguel Somfy blinds experts help customers pick the features and materials that meet all their demands and serve their desired purpose to a tee. Schedule a free in-person estimate anytime by calling or using our online appointment booking system.